Shawn Johnson: A Star In The Making
Born in 1992, Shawn Johnson developed an affinity for gymnastics at the age of three. It was a perfect match for her boundless energy and natural grace. Since then, she has continued to devote a large portion of her life to becoming a more formidable competitor. Below, we'll give you a bird's eye view of Johnson's quick trajectory toward gymnastics success. You'll learn about her dedication to her craft as well as her recent sponsorship appearances. At only 16 years of age, Johnson has quickly become one of the world's premier gymnastics performers.
Time In The Spotlight
Long before her trip to Beijing for the 2008 Summer Olympics, she was already attracting attention. In 2005, she earned third place at the U.S. Classic. Later that year, at the U.S. National Championships, she struggled to find her footing and placed a disappointing tenth. The taste of humility drove her onward and she immersed herself in her training.
In 2006, Johnson appeared at the U.S. Junior National All-Around Championship, hungry to dominate the field. She ended up earning the highest score of any competitor, easily clinching the title. It was only the beginning.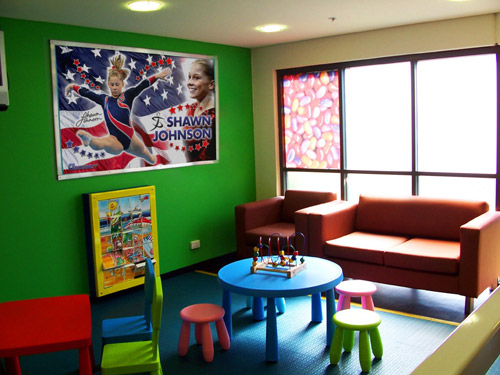 The following year, Johnson progressed to the senior division and immediately began overwhelming her opponents. At high-profile competitions, such as the Tyson American Cup, Pan American Games, and Visa U.S. National Championships, she bested other long-time favorites. Her success opened the door for her to compete at the 2008 Summer Olympics. Not only did she win several silver medals, but also earned a gold medal on her personal favorite: the balance beam.
Johnson's performance led to her appearance in television commercials by Hy-Vee, a large regional grocery chain in Iowa. And her new status as a positive role model for young people made her an ideal choice to appear on Cheerios boxes beginning in 2009.
Dedication To Her Craft
While many of her peers consider gymnastics practice a full-time job, often consuming more than 40 hours each week, Johnson and her coach take a different approach. She divides her time between practice, excelling at school, and participating in extracurricular activities, including fundraisers. Still young with plenty of time to further develop her skills, Johnson seems poised for continued success. Explore WallStars.tv to order your high-definition, life-sized Shawn Johnson wall stickers and graphics today.
_______________________________________________________________________________________________________________
Get Your Shawn Johnson Wall Stickers Today!
Bring an image of Shawn Johnson winning the gold medal at the 2008 Olympics to your walls!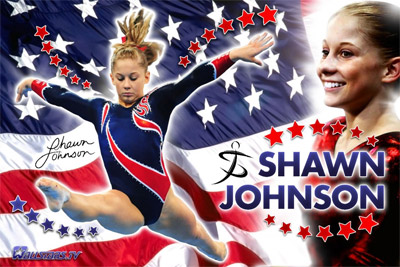 _______________________________________________________________________________________________________________