Iowa State Cyclones Football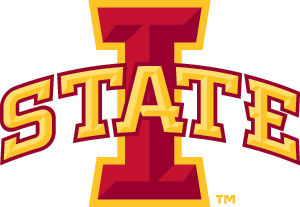 The Iowa State Cyclones football team has a long, proud tradition of excellence on the field. Much of the credit is due to their players, of course. But, the successive line of coaches who guided the players through the years have played a role that is just as significant. Below, we'll briefly explore the roles played by a few of the high-profile players and coaches on the Iowa State Cyclones football team.
Players Making A Mark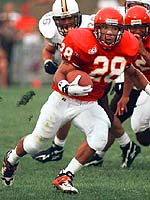 Troy Davis made a clear mark on the Cyclones football program by setting a number of attention-grabbing rushing records. Between 1995 and 1997, Davis set records for total rushing yards in a single game, a single season, and overall. In 1997, he decided to abandon his college playing career for the NFL draft. He was brought aboard the New Orleans Saints and played in the NFL for 3 years.
Ellis Hobbs enrolled at Iowa State University in 2001 with high expectations. He played impressively in high school and continued to capture attention while playing for the Cyclones. Due to his collegiate performance, he was awarded All-Big 12 Conference first team honors before being drafted in 2005 to the New England Patriots. Hobbs, a proven kick returner on the Cyclones, set the NFL record – and still holds it – for the longest kickoff return.
Seneca Wallace stunned fans and Cyclones teammates in 2002 with a 12-yard touchdown that required running 120 yards to achieve. Backing up, dodging, and barely escaping tackles, Wallace became an instant star on the field. In 2003, he was drafted to the Seattle Seahawks, and he continues to play in the NFL today.
_______________________________________________________________________________________________________________
Get Your Iowa State Cyclones Wall Stickers Today!
Relive Iowa State's thrilling 2OT victory over#2 Oklahoma State
Jack Trice Stadium Field Celebration Wall Mural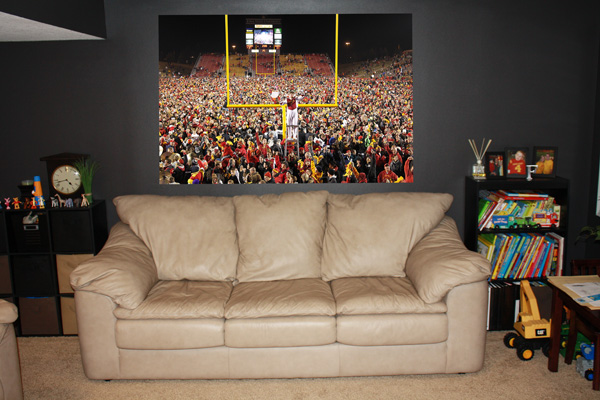 _______________________________________________________________________________________________________________
Top Head Coaches and Seasons
Johnny Majors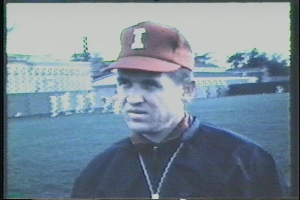 In 1971 Iowa State finished the season 8–4 under Majors, it was the Cyclones first bowl bid ever in his fourth season. The team was led by George Amundson, who Majors called "the finest athlete I have coached in any job I have had." Offensively they were led by Amundson who rushed for 1,260 yards as a running back, including a school record of 15 touchdowns. End Keith Krepfle had 40 receptions for 570 yards and 12 touchdowns. Quarterback Dean Carlson threw for a school record of 1,867 yards.
1972 saw the loss of five starters and the move of George Amundson from running back to quarterback to replace Dean Carlson. The Clones lost LB Matt Blair to a pre season injury which forced him into a medical redshirt. The Cyclones fought Nebraska to a 23–23 tie. Three players went on to be named to the All-Big Eight team, OL Geary Murdoch, DE Merv Krakau and QB George Amundson. George Amundson was named Big Eight player of the year over Heisman Trophy winner Johnny Rodgers.
Johnny Majors finished with a 24-30 record at Iowa State.
All-Americans under Major
1972 QB George Amundson
1972 E Merv Krakau
1972 G Geary Murdock
Earle Bruce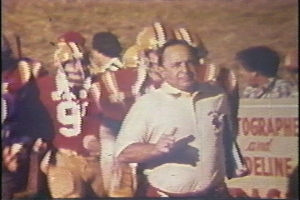 In 1976 the team finished the season with an 8–3 record and a No. 18 ranking, but was snubbed by the bowls even though their losses were to the #1, #2 and #3 teams in the country. Bruce was selected as the Big Eight Coach of the year and had four players garner all conference honors, including Luther Blue, a Split End, who was an All-American.
The Cyclones had another good season in 1977, they beat Nebraska for the second year in a row and earned a berth in the Peach Bowl.  The Peach Bowl saw the matchup of two stellar running backs, NC State's Ted Brown and Iowa State's Dexter Green. NC State dropped Iowa State 24-14 in the bowl game.
The Cyclones returned 14 starters in 1978 including Dexter Green and Outland Trophy hopeful, Mike Stensrud. Iowa State's post season hopes came down to their last game against Colorado. The game was close throughout, with ISU clinging to a 17–10 halftime lead.  The second half was a defensive battle, but the ISU defense came up with big plays down the stretch. Mike Stensrud had 16 stops and caused a fumble to help ISU preserve a 20–16 win over the Buffs. The win earned ISU a Hall of Fame Bowl bid.  Iowa State fell to Texas A&M 28-12 in the Hall of Fame bowl.
Earle Bruce finished with a 36-32 record at Iowa State.
All-Americans under Bruce
1973 ROV Matt Blair
1974 S Barry Hill
1976 SE Luther Blue
1977 NG Ron McFarland
1978 TB Dexter Green
1978 DT Mike Stensrud
Dan McCarney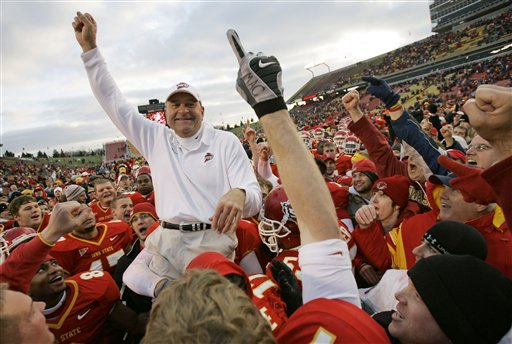 In 2000, McCarney took the Cyclones to their first bowl game since 1978, and their first ever bowl victory. Led by senior QB Sage Rosenfels, the Cyclones beat the Panthers 37-29  in the Insight.com Bowl.
Propelled by newcomer Seneca Wallace, the Cyclones went to a second bowl game in 2001 against Alabama in the Independence Bowl.  They lost the game on a disputed missed field goal by Cyclone kicker Tony Yelk, some people thought the field goal sailed directly over the right goal post.  Alabama won the game 14-13.
Seneca Wallace would lead the Cyclones to a 6–1 start in 2002, including a near-win against Florida State in the Eddie Robinson Classic. Wallace dove towards the goal line at the last second but was ruled out shy of the end zone.  They finished the season 7-7 following a loss to Boise State in the Humanitarian Bowl.
In 2004, redshirt freshman Bret Meyer took over the quarterback spot and paired up with fellow redshirt freshman receiver Todd Blythe to make a lethal combination.  The Cyclones had a chance to win the Big 12 North Title but fell short after a Missouri defender intercepted a pass intended for Jon Davis in the end zone. The Cyclones would go on to play the Miami RedHawks in the Independence Bowl. They won the game 17–13 and finished the season 7–5.
The Cyclones continued their success under McCarney in the 2005 season with a 7–5 record. They missed out yet again on the Big 12 title when they lost in overtime to the Kansas Jayhawks after a missed field goal by Bret Culbertson.  They led the game in the 4th quarter but allowed Kansas to come back. They got a berth in the 2005 Houston Bowl, but lost 24–27 to the TCU Horned Frogs.
Dan McCarney finished with a 56-85 record at Iowa State.
All-Americans under McCarney
1995 RB Troy Davis
1996 RB Troy Davis
2000 C Ben Bruns
Paul Rhoads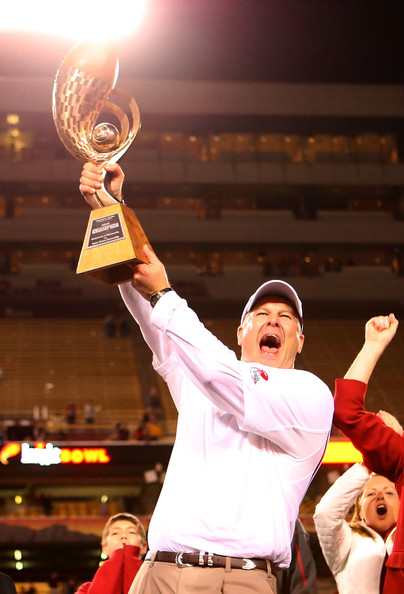 In October 2009 the Cyclones defeated Baylor to end an 11 game losing stretch against conference opponents, and then went on to defeat Nebraska in Lincoln for the first time since 1977. On December 31, 2009 the Cyclones capped off their season with an Insight.com Bowl victory over Minnesota.
In 2011 Iowa State started off the season 3-0 including a triple overtime win over Iowa in Ames, and a win over Connecticut in East Hartford. The Cyclones would drop the next four games, starting out 0-4 in conference play but quickly bounce back. The Cyclones rebounded with a 41-7 win on October 29th at No. 19 Texas Tech. On November 18, Iowa State faced off against undefeated No. 2 Oklahoma State. Down 24-7 early in the second half, Iowa State came back  to beat Oklahoma State 37-31, smashing Oklahoma State's chances of playing for a national championship.  Iowa State became bowl eligible with the win.  The Cyclones dropped the bowl game 27-13 to Rutgers.
Paul Rhoads currently holds an 24-27 record at Iowa State.
_______________________________________________________________________________________________________________
Get Your Iowa State Cyclones Wall Stickers Today!
Check out the entire Iowa State collection including:
I-State logo, Cy the Mascot, New Cy logo, Hilton Coliseum mural, Jack Trice Stadium mural.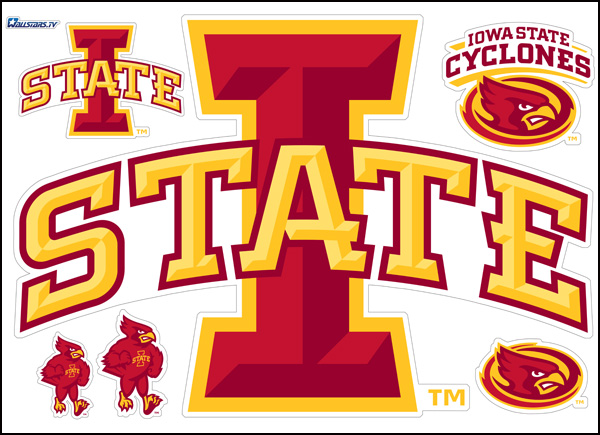 _______________________________________________________________________________________________________________
Current Iowa State Cyclones in the NFL
_______________________________________________________________________________________________________________
_______________________________________________________________________________________________________________