Shawn Johnson 2008 Olympics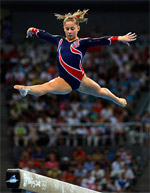 Still only 16 years of age, Shawn Johnson's performance at the 2008 Summer Olympics in Beijing was a long time in the making. Her path to stardom began at age 3, when her parents enrolled her in gymnastics classes. By 2007, Johnson was dominating the field and seemed a veritable "sure thing" for the Olympics team. Meeting all expectations, she secured her spot on the team by trouncing teammate Nastia Liukin at the Olympic Trials.
Team Silver
Though Johnson was scheduled to perform in a highly-anticipated individual gymnastics event, she was also an important cog in the U.S. team all-around effort. With teammates Liukin, Chellsie Memmel, Samantha Peszek, Alicia Sacramone, and Bridget Sloan, she earned a silver medal behind the Chinese team. Johnson's ultimate hope was to return home from the 2008 Summer Olympics with a gold medal. To accomplish that, she would need to perform well in the individual events.
Personal Silver, Then Gold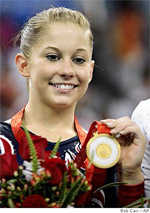 Johnson was favored to win the gold medal in the individual all-around event. She had arrived at the Olympic Trials and bested Liukin, building the expectations of her family and her coach. Unfortunately, Liukin performed flawlessly and took the gold, leaving the silver for Johnson.
The floor exercise was another opportunity, but this time, Sandra Izbasa from Romania earned the gold. Once again, Johnson was left with another silver medal, still one step away from achieving her dream.
The last chance for Johnson was the balance beam. It was her favorite event, but as the moment for her performance approached, she began having problems. Her head pounded and her stomach ached. She practiced her routine over and over, each time failing to hit her mark. Her gymnastics coach, Liang Chow observed her nervously.
Finally, Chow exclaimed, "Shawn, please wake up!"
It was exactly what Johnson needed. She walked out to the floor and mounted the balance beam. When it was over, she had earned her first Olympic gold medal.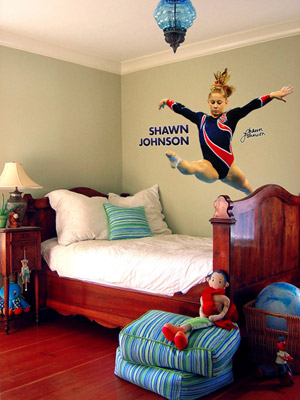 The Dream Accomplished
Shawn Johnson had always dreamed of bringing home an Olympic gold medal. She had learned in Beijing that dreams wouldn't suffice; effort, dedication, and discipline were needed. In the end, she achieved exactly what she had set out to do and millions of Americans applauded her. To relive the fateful moments as Johnson performed the routine that would transform her into an Olympic Champion, order your life-sized wall stickers at WallStars.tv today.
_______________________________________________________________________________________________________________
Get Your Shawn Johnson Wall Stickers Today!
Bring an image of Shawn Johnson winning the gold medal at the 2008 Olympics to your walls!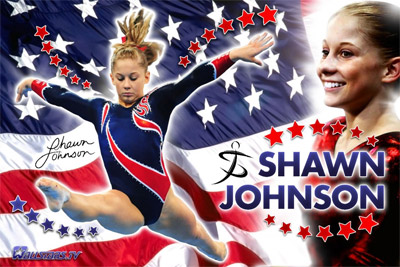 _______________________________________________________________________________________________________________