Must see video for Gabby Douglas fans….
Brought to you by Procter & Gamble – Proud Sponsor of Moms – See more Raising an Olympian Videos
Raising an Olympian – Gabby Douglas, Natalie Hawkins – Learning to Let Go

Natalie starts the video by saying, "they say it takes a village to raise a child".   In 2008, the family watched the Olympics together and Gabby said "wow, look at Shawn and her coach (Liang Chow), they look like they are really having a good time, I would like for him to be my coach."  Natalie said I have a child who would never leave my site, now wants to move across the country.  Luckily they found Missy Parton and her family in West Des Moines, Iowa.  The Parton's welcomed Gabby in to the family as one of their own and allowed Natalie stayed involved in every day of her life.
In 2011, Natalie and her other children flew to Iowa and spent Christmas with Gabby and her host family.  When it was time for them to leave, Gabby wanted to go home with them, she missed them and was really homesick.  Natalie told Gabby "life is not easy, you have to fight and refuse to quit….you have team members, you have a country your representing."   When Natalie returned home she video chatted with Gabby, and Gabby said "I'm going to stay mom, I'm going to fight for my dream."   Gabby changed after that moment.
The video ends with Natalie saying "Letting go of Gabby was one of the hardest things I ever had to do in my life, but now it is one of the most rewarding things that I've ever got to experience in my life.   There is no greater joy than for a parent to see their child reach their dream.  I've raised an Olympian….Wow…that's a powerful statement right there.
________________________________________________________________________________
Get Your Gabrielle Douglas Wall Stickers Today!
Add the "Flying Squirrel" to your walls today.  Bring home the gold Gabby!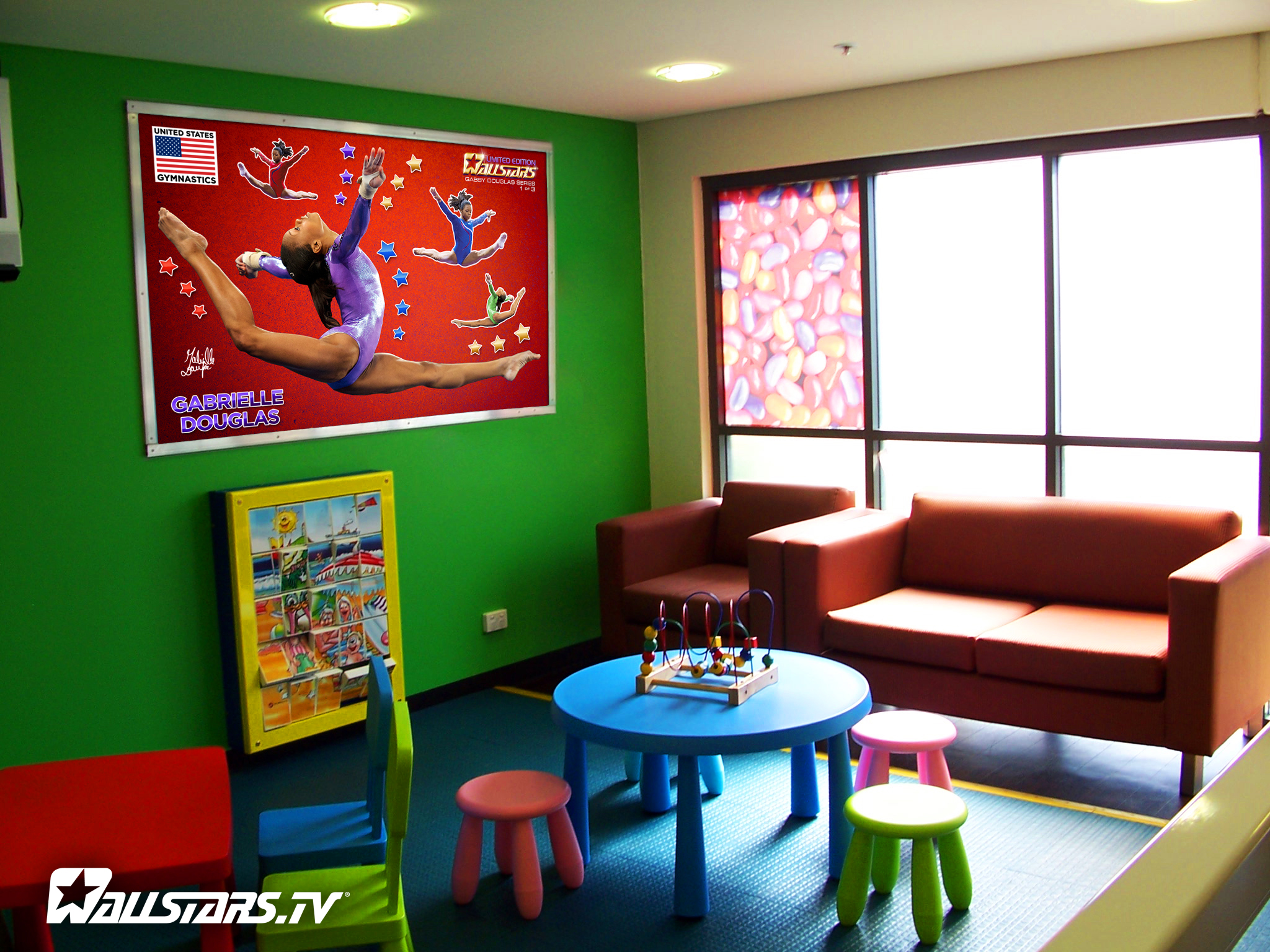 Gabrielle Douglas WallStar (Version 1 of 3) – Gabby Douglas Series
________________________________________________________________________________
Comments